UN Secretary General Guterres started the week off with a message of hope to open COP25. That emotion was soon undone by the fear instilled by a new World Meteorological Organization report which told us a 3 to 5 degrees Celsius global temperature increase is more likely than the 1.5 degrees hoped for.
One #BigOil company made a carbon neutral commitment splash, another, stepped in it again with misleading sustainability adverts.
Then the Madame of Meme, Nancy Pelosi, speaker of the US House of Representatives, showed her steel by telling us the "USA is in" the Paris agreement regardless of what scorched-earther Trump says.
All this and more in This Week in Sustainability.
COP25 week one…..
This week started out with António Guterres, Secretary General of the United Nations, saying:
"The human species has been at war with the planet. Now the planet is fighting back. Climate change has escalated into a global climate emergency. But my message at #COP25 is not one of despair, but one of hope and successful #ClimateAction.
"In the crucial 12 months ahead, it is essential that we secure more ambitious national commitments – particularly from the main emitters – to immediately start reducing greenhouse gas emissions at a pace consistent to reaching carbon neutrality by 2050.
"The technologies that are necessary to make this possible are already available. Signals of hope are multiplying. Public opinion is waking up everywhere."
You have to go with his message of hope, because the alternative is not a happy place. The week's events so far, didn't inspire wholesale amounts of that emotion but there were some good moments.
Companies and countries made their 'pleas' and commitments to carbon reductions building some good-news momentum, only to be offset on Thursday by The Global Carbon Project's yearly emission trends analysis which points to a 2019 rise in CO2 emissions of up to 0.6%.
The cause: "continuing strong growth in the utilization of oil and gas."
More concerning still, is that since the 2015 Paris agreement, global emissions have risen by 4%, not a decline as hoped for… nay as desperately needed.
PS – When will someone in #BigOil listen? Nationalize Exxon and find out.
Pelosi says US is 'in' at COP25
A lot of folks might say Alexandria Ocasio Cortez is the Congress' Queen of social media and has the meme move down like no other.
Not me.
For me, no one does it any better than the Madame of Meme, Nancy Pelosi, speaker of the US House of Representatives.
While Nancy may not fancy AOC's Green New Deal as much as I do, she gets the importance of the Paris Climate agreement and US climate leadership which she conveyed to us this week at the COP25 with pithy rectitude:
"We are still in."
With these four simple words the Madam of Meme gave us great hope and surely sent shivers up and down any anti-Trump spine.
PS – "We are still in" rivals, but is still only a close second to the brilliant 'Clapping' she gave to Trump during his 2019 misstating of the union speech. Watch it again, it will make you happy.
PPS – Mastercard is right, somethings are priceless.
Good Big Oil (Repsol) – Bad Big Oil (BP)
With annual sales of nearly USD 60 billion, Repsol is Spain's leading oil company and became the world's first oil major to align with the Paris agreement goals when it announced this week at COP25 it would eliminate all greenhouse emissions from its operations by 2050.
The company was 129th on the Forbes Top Regarded companies list and is now bound to move up.
BP's new promotional campaign on the up and up?
Meanwhile, BP, UK's oil giant, faces a 'greenwashing' complaint over its newly launched advertising campaign.
This week, lawyers from the incredibly important legal group ClientEarth begin a case against BP's misleading impressions on its low-carbon credentials (Check out details of the case at Lawyers Challenge BP Over 'Greenwashing' Ad Campaign in Inside Climate News, a great site).
BP, the group claims, has broken the first law of sustainability: 'tell the truth and be transparent.'
Ok, that's my law of sustainability, but it is not the first time the British company has wrapped shiny sustainability words and pictures around its demonstrably poor environmental and social performance.
Second time shame on us?
In the years preceding BP's Deepwater explosion in 2010 which resulted in 200 million gallons of oil spilled in the Gulf of Mexico, the company's sustainability reporting led analysts to believe it to be one of the safest and most concerned about the environment companies in the world.
Turned out, BP's sustainability reports were great: great at obfuscating, omitting, and half-truthing.
You can judge for yourself if what BP promises in its promo passes the sustainability smell test.
But while you sniff, consider this: over 96% of BP's planned capital investments in the near future will build everything 'oil and gas.'
Leaving oil and gas in the ground: not really on the table
#BigOil's less than stellar commitment to zero carbon energy was reported recently in This Week in Sustainability and elsewhere. Not surprisingly, #BigOil's combined total investments in 'low carbon' energy is slated to be less than 1.5% of all investment.
Seems #BigOil is more set on carbon converter tech than zero carbon energy production. That is just hopeful speak for 'we plan to pump every drop of oil and gas we can.'
It is shameful, really.
Let us hope Bernard Looney, who will take over from current BP CEO Bob Dudley early next year, has kids he actually cares about.
PS – If you want to learn more about how #BigOil's promotional material has changed over the years, check out The Sustainable Century Podcast airing Friday December 6, featuring special guest University of Reading Linguist, Dr. Sylvia Jaworska who tells us about her study of 13 years-worth of #BigOil sustainability reports.
Spoiler alert: #BigOil obfuscates, while subtly shifting the blame for the #ClimateCrises on consumer demand.
PPS – You can donate to the incredibly important lawyers at ClientEarth by clicking HERE!
The WMO delivers more bad climate news at COP25
Findings from a recent World Meteorological Organization report found that we are on course for an increase of 3 to 5 degrees Celsius (5.4 to 9 degrees Fahrenheit) by 2100.
Experts were hoping commitments from the Paris Climate agreement signatory countries would keep the level below 1.5 degrees.
The report suggests a new agreement with higher emission reductions is necessary.
Kingspan and Cargill unveil Paris-aligned climate strategies
Global climate meetings have always been a time for private sector grandstanding. And that's not always a bad thing
This week at the COP25 meetings, construction materials giant Kingspan and the agri-food multinational Cargill, both made major carbon reduction announcements.
Kingspan committed to cutting emissions 10% by 2025, primarily through renewable energy, saying it would achieve net-zero emissions in manufacturing by 2030. The company also plans to reduce its supply chain emissions by half over the same time.
Meanwhile, Cargill's said it would reduce its supply chain emissions by 30% before 2030 including in its carbon heavy beef supply chains.
The world hopes Cargill's commitment will provide leadership for other ag and food companies, who are notably behind the carbon curve.
It is probably not lost on anyone that the ag and food sector is suffering the consequences of the #ClimateCrises more than most other sectors, as unreliable weather patterns put food security at greater risk each year.
Cargill is also signatory to the 75 US company 'We Are Still In' United for the Paris Agreement declaration.
75 US companies and unions United for the Paris Agrement
This week at COP25, a joint US labor union and CEO statement on the Paris Agreement reaffirmed their commitment to the accord.
The group, representing some 14 million employees and union members, says "progress on addressing climate change is what's best for the economic health, jobs, and competitiveness of our companies and our country."
Citing record temperatures, fiercer hurricanes, destructive wildfires, droughts and flooding, and their economic impacts, the group hastens action, saying "we have no time to waste."
American Companies and Unions also 'Still In'
In an implicit rebuke of the Trump administration, the group said they "stand with the 77% of registered American voters and over 4,000 American states, cities and businesses supporting the Paris Agreement."
Not just carbon, its about a sustainable economy
A commitment to the agreement is not only a commitment to climate, they said, but to labor rights, communities, union members, families, and to the creation of a sustainable economy.
The United States is, they say, and will continue to be a #ClimateCrisis leader in the transition to a fossil fuel free world.
The Paris Agreement is fundamental to that commitment as it sets clear goals and enables long-term planning, encouraging the innovation required to achieve low cost cuts to emissions.
Citing World Resource Institute research, Oliver Balch in Ethical Corp noted the combined potential carbon emissions savings of the 75 'Still In' signatory companies could be greater than the current carbon output of France and Spain.
The signatories sign off their pledge urging "the United States (aka the Trump administration) to join us in staying in."
Click here for the list of signatories.
Leo DiCaprio punches back at the Brazilian president on Amazon fires
Celebrities, gotta love them. Especially those like Leo. Leo DiCaprio that is.
This week, DiCaprio mixed it up with Brazil's President Jair Bolsonaro, Trump's fellow scorched-earther, who blamed the American actor for setting the Amazon on fire.
Bolsonaro blasted Leo for supposedly supporting NGOs the Brazilian president claims are setting fires to raise money for their cause, which is… to stop the burning of the Amazon.
Crazy right?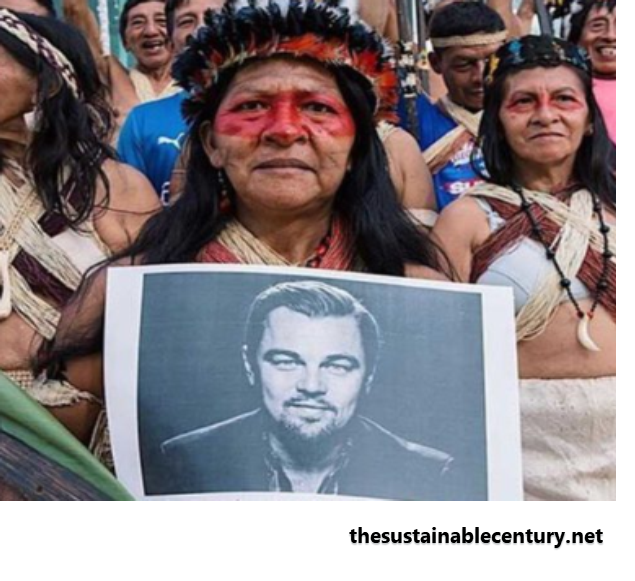 It is true that the Leonardo DiCaprio Foundation funds NGO projects that "protect vulnerable wildlife from extinction, while restoring balance to threatened ecosystems and communities."
Sloppy tweeting is not the same as setting the world's lungs on fire
And it's true that the folks DiCaprio funds are often front-line indigenous people living in the rainforest, so they are literally around and about the fires.
And it is also true, that Leo has likely shared outdated or misleading photos of the fires, which serves only to pour fuel on Bolsonaro's ridiculous conspiracy theories.
DiCaprio should fix any sloppy tweets. It's an important responsibility.
Leo punched back against Bolsonaro writing on Instagram he remains "committed to supporting Brazilian indigenous communities, local governments, scientists, educators, and general public who are working tirelessly to secure the Amazon for the future of all Brazilians."
My advice?
Make a huge bowl of popcorn, invite some friends over, and do a Leo film marathon. Get the man some more royalties so he can help stop the likes of Bolsonaro.
The Last Word in This Week in Sustainability
The last word in This Week in Sustainability goes to a graph. It's from Helen Avery's (@HelenAvery123 ) most excellent Euromoney article this week on sustainable finance, Sustainable finance's biggest problems, by the people who know best

Based on data provided by the World Resource Institute (again), Avery reports there is some consoling hope in green investment trends, yet some notably depressing challenges as well.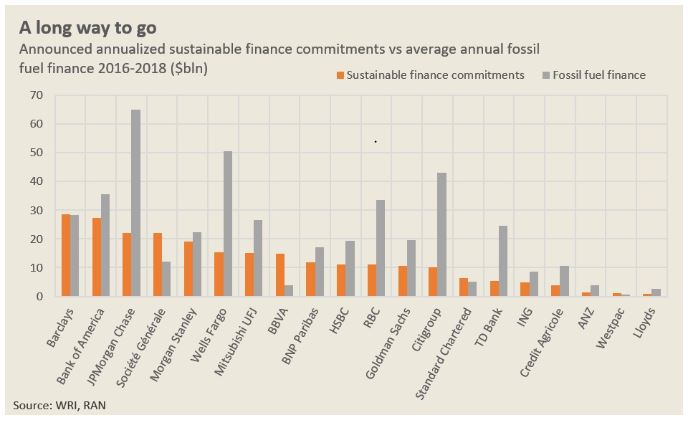 Given what we know about the carbon doom in the offing, it is stunning, if sadly not surprising to learn from Avery that major banks have announced far more financing for fossil fuel than green projects.
Bloomberg data cited in the Green Money Journal tells us there is over USD 600 billion in sustainable debt (green, social and sustainability) outstanding in the markets.
Great right?
Not so much.
Green debt is still less than one percent, of the USD 102.8 trillion of global bonds in the market (2018 figures).
The Challenges? Boring but vitally necessary stuff
To advance green investments, Avery tells us of the vital and immediate need to better define what green investments actually are. There is an equally important need to improve methods of tracking them, and, most remarkably, to ensure that green financing commitments are actually are green commitments.
Check out these and other great insights on responsible finance and more @euromoney or https://www.euromoney.com/
Signs of Change December 6
Walking out on Shell Oil, Chevron and BP's bs…..
Thanks, and love to all of This Week in Sustainability witting and unwitting contributors:
@CANIntl @HelenAvery123 @Benioff @ChristopherNFox @euromoney
If you have some news we missed, let me know in the comment section or by signing up for our weekly The Sustainable Century updates!
Want to join the tribe of investors urging dramatic action on the #ClimateCrisis, social justice and equality?
Get your copy of my book Invest Like You Give a Damn….. drop me a line if you have any questions or thoughts!
Have a great weekend.