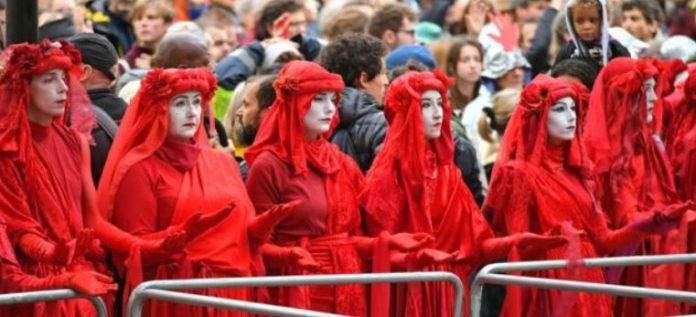 There has been some jolly good news This Week in Sustainability as the #ExtinctionRebellion protesters were banned from London, renewable electrical energy overtook fossil fuels for the first time in the UK, and the British Guardian newspaper became the first major media outlet to seek sustainability provoking B Corporation certification!
I dare say: a second British invasion on its way to North America?
XR London calling….
In what will be either a magnificent coup or a potentially terrible set back, Extinction Rebellion (XR) protesters were banned from demonstrating in central London this week.
The group had been disrupting traffic these past two weeks with big pink and green sail boats, protest banners, public monument climbing, and more. Its goal: highlight government inaction on the climate emergency, and force concrete grassroots-led action.
The protesters have enjoyed broad public support despite the traffic fuss, doing exactly what it set out to do: disrupt the British economy and the 'normal functioning' of society to force government to address the climate crisis.
Getting banned is good
"Treating Extinction Rebellion as just another campaign group trying to sway public opinion misses the point spectacularly," said the New Statesman, disruption is their aim, not majority support.
As co-founder and many-times-jailed Gail Bradbrook said in a Sustainable Century Podcast earlier this year, "the history of non-violent movements shows we need about 3.5% of the population behind us to force governments to act. The rest we can just piss off."
Ban On… Tally Ho!
With the newly laid on ban, XR activists went to block traffic at Oxford Circus, descending later on Westminster (site of the UK government), before moving to Trafalgar Square for a "closing ceremony" marking the end of its two-week protest.
More than 1,760 XR protesters young and old, including a 91-year-old gent, were gladly arrested.
Fossil fuels produces less electricity than UK renewables!
For the first time since 1882, zero-carbon electricity in the UK – renewables and nuclear – produced more electricity than gas and coal-fired power.
The record was set in the third quarter of this year after the share of renewable and nuclear production rose to 40%, due much to windfarms, solar panels, and renewable biomass plants.
New offshore windfarms in particular helped push renewables past fossil fuels over the tipping point in Britain's energy transition.
Kurds murdered in Turkey
Trump unilaterally decides to let Turkey of its leash and Kurds die.
Its as simple as that.
Selfish, self-absorbed, enjoying decision making unrequited with consequences, Trump whiplashed US Middle East policy with no apparent logic.
Wannabe Mr T
Conspiracy theorists suggest the wannabe autocrat and strong man was currying favor with actual strongmen and autocrats, Erdogan and Putin.
Undoubtedly, Trump is motivated by sucking up.
But there is an indescribably viler reason for raining death upon a former ally: Trump is desperate to distract attention from the impeachment closing in on him.
Each day this week there was a steadily growing chorus line of ex-flunkies and courageous professional diplomats deciding to testify on behalf of the US Constitution, not the United State of Trump.
Sustainabilty requires justice and equality
We cannot let this wannabe distract us from equality and justice, vital elements in the battle for a more sustainable world, and so bereft from the president's tragic laiden decision of indifference.
How we treat each other is so unimaginably related to how we can collectively solve global crisis affecting us all. Climate, social justice, peace and community building are not abstract concepts. They are tasks of inordinately necessity requiring the great trust, hope, and resources of many sharing the same spirit.
There is no future 'apart'
While the death of a few hundred Kurds is neither a problem nor a worry to men like Trump, what passed in Northern Syria is yet another sobering moment of decision, one of too many it seems these days, where how we choose to react will define in some great measure the sustainability of our children's future.
If men like Trump continue to have their way, it is clear that this future could be as horrifically uncertain as it is for the Kurds today.
Bill Barr paints himself into a un Christian-Christian corner
US Attorney General William Barr sliced further into the flesh of culture and race wars by blaming a less Christian society for mental illness, drug abuse and other maladies.
If Bill is pandering to the GOP base, he best beware. By far, the majority of American's identify as Christian. Some 70% of democrats and independents, and 80% of republican voters see themselves as Christian.
By contrast, and more ominously for the Barr-minded conservatives, less than 65% of younger Americans do not identify with any religion, let alone Christianity.
It goes without saying and must be said: this dog whistle just don't blow.
Thanks to @SafetyPinDaily for the tweet.

Inspired #ClimateCrisis activists Jane Fonda seeks arrest
This week actress Jane Fonda was arrested in Washington DC for protesting the #ClimateCrisis.
Fonda was among some 16 people arrested with unlawful protesting and was charged with "crowding, obstructing or incommoding."
Once also known, as Hanoi Jane, the US actress has a history of activism.
She joined the Standing Rock oil pipeline protestors in North Dakota recently, and much further back, she sympathized with the Black Panther Party. More famously and even longer ago, she opposed US military involvement in Vietnam by climbing on a anti-aircraft gun in Hanoi.
Released later in the day, Fonda said she would get herself arrested every Friday until the government meaningfully acts on #ClimateCrisis.
Who doesn't love Jane now?
Thanks to @wrobertsfood for the tweet!
B Corp Coup as the Guardian News joins its ranks
More good news came out of the UK this week when the Guardian newspaper announced it would become a B Corporation, joining the ranks of Patagonia, Triodos Bank, Danone and more than 3,000 other companies worldwide.
The Guardian will become the the first major media company to become a B Corporation by committing to balancing profit with purpose. The commitment will have the company undergo the B Corp's certification process which requires the highest standards of social and environmental performance, public transparency, and legal accountability.
B Corps made news last month by taking out a full page ad in the New York Times, inviting self-congratulatory Business Roundtable members to demonstrate their new 'stakeholder over shareholder' primacy commitment (aka purpose over profit) by becoming B Corps.
The invite proved too much for the well-phrased but ultimately fuzzy commitment of JP Morgan, Blackrock, Shell, and the like. No Roundtable members have yet to take a plunge on the sustainable side. Maybe next year?
PS – Check out the Guardian. Its coverage is free and has unsurpassed climate and justice reporting and opinion. You can also donate to ensure it remains well funded and free, I did. @guardian
Thanks to @cathrinejahnsen for the tweet.

#ClimateCrisis puts Japan underwater
Last week in This Week in Sustainability I reported that a Formula One car race had been postponed in Japan due to the then oncoming Typhoon Hagibis.
I am mortified. Our coverage focused on the postponement of the race as a means to connect the #ClimateCrisis with car lovers in the US. It was a poorly thought through idea given the danger of the advancing storm.
The images this week of Japanese homes being swept away by rivers swelling over their banks to well past historic levels, has been truly terrifying.
Hitting the Izu Peninsula, southwest of Tokyo, the storm has caused the loss of over 50 people killed and more missing. Some 240,000 had to be evacuated from their communities, and there were billions in damages to homes, businesses, and infrastructure.
Losses have been unimaginable in yet another sad day in the #ClimateCrisis.
Join the #ExtinctionRebellion.
Last Word
Can you imagine a simple life in your simple and sustainable home?
Many can. That's why the Solaleya designed home and business units are so unbelievably attractive!
This is not just good for sustainability. The quality and affordability of these homes could solve housing crisis in countries around the world, improving health and happiness for millions while reducing stress on natural resources.
Watch the whole Mashable video and RT, it's great and so is the music! Thanks for the sharing the original tweet @Celonis / @mvollmer1 and @mashable for the video.
Signs of Change
Revolutionary Green New Deal ideas are spreading, making work about saving the planet, not destroying it and all we love in the process is a good one!
Want to get inequality, injustice, and bad environmental impacts out of your portfolio? Learn how with my book Invest Like You Give a Damn!