This Week in Sustainablity…

Carbon emissions hold steady for 2019
UK Cultural worker protest fossil fuel patronage
First Nations ramp up protests against pipelines in Canada
BlackRock and Amundi shake their asset management sustainability sticks
Trump threatens all things sustainable….
Podcast and videocast below at end…

OMGaia – Carbon Emissions Stall in 2019!
I grew up one of those super independent rural cowboy types, so I sometimes have a hard time generating a lot of sympathy for folks who
don't take stress by the horns and just do something about it. It's a big flaw and I am working on it.
But one stress I can empathize with is #ClimateCrisis despair.
Many people and a lot of kids tell me this stress is like an animal that lives inside them.
It's a tight, gnawing feeling, made worse by the magnitude of the problem, the power of those who don't give a crap about it, and the seeming helplessness of it all.
ClimateCrisis stress feedback loop
Psychologists explain stress has a continuous feedback loop, the more you feel it, the less control you think you have, the more it multiplies.*
That is until something, some event, some decision, some change of context occurs, and a light appears at the end of the dark tunnel of angst to renew faith, give new energy, and develop new powers to fight or move on.
Despite it all, carbon emissions stalled in 2019
This week, one fact changed to help all of us suffering from #ClimateCrisis anxiety.
Despite a global economy that grew 2.9% in 2019, despite a record 100 billion tons of natural resources used to fuel that expansion, and despite two years of record-breaking emissions, carbon dioxide emissions, according to IEA data released this week, actually stalled this past year at 33 gigatonnes.
But wow, yea! How great is this!?
Of course, that's still a lot of carbon.
How many Empire State building of carbon?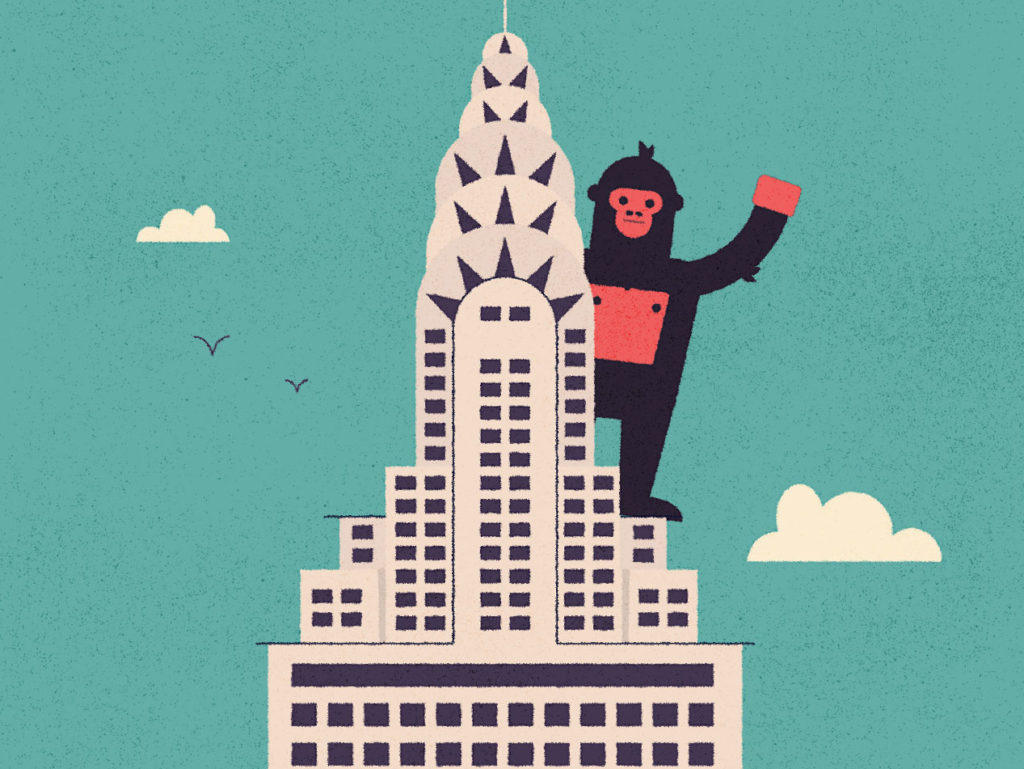 That is so much, it's even hard to do one of those "How many Eiffel Towers or Empire State buildings is it" comparisons. (Actually, it's 95 thousand Empire State Buildings which, if placed side by side would stretch from NYC to Los Angeles and back)
Ok I'll stop. You get the point.
But there is another DESPITE
Carbon growth also slowed despite the Trump administration's demonstrable hate on the environment and denial of the #ClimateCrisis.
While still far too much for the world to absorb, carbon emission fell in US by 140 million tons in 2019 and is own gigatonne from its peak in 2000. They fell 160 million tons in Europe, and 45
million in Japan.
Why on the decline?
The declines?
They were due primarily to expanding wind and solar energy, switching out coal with natural gas for electricity generation, and more nuclear power.
The question on everyone's mind? Did we hit peak emission – or the maximum emissions we will produce in a given year? Is this just a pause? Will emissions go higher again? Or will they start to decline?
Those are anxiety inducing questions.
Forget about them. Listen instead to Dr. Fatih Birol, Executive Director of the IEA: "We now need to work hard to make sure that 2019 is remembered as a definitive peak in global emissions, not just another pause to growth,"
There is still, he notes, a long way to go and lots to do.
Chill, gain energy, and get back at it later
My recommendation?
Don't worry about carbon for a month or two, close the #ClimateCrisis angst feedback loop down for a while, enjoy the pause and some angst free moments.
We are going to need all the will power, energy and faith to fight this until a carbon free end.
*I refer to low level anxiety not clinical anxiety disorder, check out this Ted Talk on Anxiety to learn more.
Employee Activism on the Rise – UK Cultural Workers tell BP to fossil fuel off
I used to go to a lot of corporate sustainability conferences. They were interesting and exciting,
Yet it was an odd crowd, one where everyone seemed at once indefatigably upbeat and yet terribly frustrated.
The problem: we all had great ideas, fantastic commitment, big job titles, bigger mandates but we had little power and less budget.
Frustrating hardly begins to describe it.
That is changing.
Sustainability executives all around the world are being empowered by rank and file employees standing up to or with their executives for a variety of sustainability issues.
This week, it was members of the UK PCS union, representing 4,000 workers at leading cultural sites and museums, the union called for British Museum to ditch a sponsorship deal with BP, the UK oil giant.
Oh, to have William's words against BP
This was on the heels of artists and environmentalist who convinced the Royal Shakespeare Company to chuck its fossil fuel corporate sponsor just last year.
"Cultural institutions have a moral responsibility" said Ahdaf Soueif, an ex-Shakespeare Company director who resigned last summer over the BP sponsorship, "in who they choose as partners…. It's time to drop BP."
Activism on the rises in tech and other sectors
Many may recall hundreds of Google employees walking off the job in 2018 protesting the company's handling of sexual misconduct allegations. Or Amazon Employees for Climate Justice pestering company CEO Jeff Bezos about becoming more proactive about the #ClimateCrisis.
Employees are also calling companies out for their hypocrisy. Take Amazon and Google (again). While doing quite well on clean energy and other sustainability issues, they both, most incredibly work for the fossil fuel industry's helping to search out and extract more oil and gas.
More positively, Seventh Generation, Patagonia and Ben and Jerry's (it's always Ben and Jerry and Patagonia!) closed their doors for the recent Friday for Future global protest to let their employees participate.
Gotta love Ben and Jerrys, but I wonder what might have happened if their parent company, Unilever, let all of their 155,000 employees in over 100 countries do the same?
Wet'suwet'en First Nation Fight For Their Land and Your Backyard
Imagine last Thursday you were in your backyard of having a winter barbeque.
Nice right?
Nice until the police showed up, dragged you, your kids, the neighbor's kids and some other friends away.
Sorry, they said, you don't own this back yard anymore, despite the fact you have legal title and the property has been in your family for as many generations as you can remember.
Think about that.
Not just the concept of such a loss.
Not just the complete helplessness you would feel?
Not the economic cost, but the loss of an inexplicably deep emotional connection to the land under your feet.
Wet'suwet'en land is spirit, substance, culture
That what is happening to the Wet'suwet'en nation members in northern British Columbia Canada as they fight to protect their ancestral land from the construction of Coastal GasLink's 670 km gas pipeline.
The $5 billion project has the support of many First Nations councils , including five of six Wet'suwet'en nation councils.
Problem is, these councils were formed by the Canadian government years ago. Wet'suwet'en Hereditary Chiefs say that council authority applies to small reservations lands and not to the 22,000 square miles of traditional territory the pipeline will traverse. Land which for which the Wet'suwet'en Nation never surrendered its Aboriginal title.
Sovereignty at issue, and the environment
The battle is not an anti-pipeline protest per se, although that is important. It is over First Nations' sovereignty of their territorial and human rights.
This is a fight facing many other First Nations in Canada, causing protests to break out this week across the country, including the very cool Tyendinaga Mohawks who disrupted rail lines outside of Toronto with a sofa and snowplow.
The Wet'suwet'en, say the Mohawks, never had a treaty with Canada so the government can't claim or tell them what to do on their land. "They are our brethren….and we support them in protecting their territory."
The several Mohawks were arrested, as were dozens of other protesters in Vancouver, Montreal, Delta, and Smithers.
Now that is solidarity!
National police action against the Wet'suwet'en:
shocking
I have to say, I am a bit shocked. The government and national police taking "down people who are living on their own territories," on behalf of big companies.
In Canada? We are supposed to be so nice. Right?
Maybe I am biased.
One of the most enduring privileges of my life was to have coached a lacrosse team in the Cowichan Valley.
The team had several First Nations players from Pemelakut Island, and were decedents of Hwlitsum First Nation, historically known as the Lamalchi.
It's too long story to tell here, how I came to love First Nations. But I will tell you this, they have been screwed constantly since we Europeans came to their shores, and we need to stop it.
We just don't get it. Do we?
If we don't, we remain complicit in continuing crimes against humanity.
Wet'suwet'en Chief Smogelgem said they will not stop blocking the pipeline "until the R.C.M.P. (police) get off our land and the Coastal GasLink company stops the pipeline."
If I were there, I'd be with the Wet'suwet'en fighting to preserve their sovereign rights. Because who knows, one day they just may come for my backyard.
It's a bit of a complicated story, check out this really good review done by the CTV, a national television station in Canada.
BlackRock Spanks Siemens: One Step Closer to a Carbon Free World?
Last week the Sustainable Century Solutions Podcast featured Eugene Ellmen a pioneer of Canadian sustainable and responsible investment, otherwise known as environmental, social and governance investment (ESG).
We marveled at the recent and rapid uptick of ESG asset management around the world.
Imagine, when we got started in ESG in 1990, there were less than a billion ESG dollars invested in Canada and the USA! Now? It's like $12 trillion. That's 3% of all tradable securities in the world. It's a lot, right? But there is still a long way to go before ESG has game changing impact.
Can we believe BlackRock?
Or is there?
You may recall mid-January this year, Larry Fink, CEO of $7 trillion asset manager BlackRock, wrote his annual CEO letter proclaiming for the third year in a row ESG factors are important. But this year he said it differently, and better than the previous two. This year, he said ESG must take precedence over the narrower interests of shareholder profit.
Eugene and me? We didn't believe him.
BlackRock, after all, still has investment coal, fossil fuels, and a lot of Big Agriculture etc. etc.
And as Andrew Behar of @AsYouSow noted on Sustainable Century Solutions podcast, BlackRock has never voted on any ESG resolutions put to their investee companies at annual general meetings.
So, our decade long cynicism remained intact.
But last week, last week, damn him all to hell, Fink had BlackRock spank Siemens, the giant German industrial, for its role supporting in the future burning of the Australian outback.
Oh, I miss spoke, I meant to say for their role providing services to the planned, and very large
Carmichael coal mine in Queensland.
The BIG stick talks
This is the first time such a huge conventional asset manager has made such a stink. Admittedly, Siemens' $19.5 million contract to Carmichael for the
provision rail signaling equipment is quite small.
So, what's the big deal? Three things stand out.
First, until now, whatever ESG discussions BlackRock has had with investees had been a lot more private than this one with Siemens. Publicity like this allows, for and raises accountability expectations.
Second, given the small size of the Siemens contract, BlackRock's questions were clearly more a message to other investees than an actual threat to Siemens.
Third, the smallish size of the contract gives Siemens a simple way out. Had it been a big contract, sparks, lots of them, would have most ensued. Say what you want about BlackRock. It was a good move made the right way.
Permission to act
In This Week in Sustainability last January I said Fink's letter stakeholder over shareholder letter was important because it gave permission to the finance community to care about sustainability issues, or something they once did not see as their business.
Lo and behold, this week Europe's largest asset manager, the $1.7 trillion Amundi, reported it would back a ShareAction shareholder vote urging Barclays, Britain's second largest bank and largest European fossil fuels financier, to stop offering loans to fossil fuel companies.
That's a very good thing, because Barclays provided some $85bn in finance to carbon-intensive companies between 2015 and 2018.
Amundi joins several shareholders, including the Church of England, to get behind the resolution calling for the phasing out of energy companies that do not align with Paris climate goals.
Trump's Attack on Democracy is an Attack on Sustainability
It was a hard week for democracy in the United States.
After 'learning" his impeachment lessons, President Trump proceeded to attack the very foundation of US democracy this week, by interfering with the
sentencing recommendation of his cover-up crony Roger Stone.
Not a single GOP Senator or Congress person stood up to challenge Trump, as the walls between politics and justice seemed to crumble.
In protest or fear, three of the four prosecutors making the recommendation quit the case. The other resigned from the Department of Justice.
Trump's message is clear: he will bend justice to protect his friends and punish his enemies.
Democracy: wonderous, rare and delicate
Now, I have been to some 80 or more countries, where in many, too many, an impartial judiciary is a rare, where the law serves officials who fail to serve the rule of law.
In Russia, in China, in many countries, illegal incarceration, torture, fake witnesses, and extortion are common. Talk truth to power in dozens of African, Asian, and Latin American countries you might feel lucking to have just been tortured.
Maybe because many Americans haven't seen this for themselves, they can't fully appreciate just what a wonderous and delicate thing democracy is.
Great democracies require constant and vigilent defense
I love America.
But it is far from world's greatest democracy. Gerrymandering, corrupting campaign finance, the electoral college, insidious and constant assaults on voter rights, ensure this is true.
But it is a great democracy, and much of that greatness is founded on the continued strength and independence of its judiciary.
If there is fear of judicial retribution, there can be no political or corporate whistleblowers. If there is fear of judicial retribution, there can be no free press or freedom of association vital to exposing nefarious and harmful economic and social activities, private and public. If there is fear of judicial retribution, there will be no corporate or political transparency or accountability.
As the Trump administration continues to tear up incredibly important environmental and protection and human rights regulations and laws, many Americans will suffer while Trump and his cronies' profit.
Who stand up for democracy
Who will stand up to these and other injustices without the guarantee of human rights and a fair judiciary?
As we have reported in This Week in Sustainability, there is growing number of legal cases against fossil fuel companies in the US, and we also know the fossil fuel industry's ties to the Trump administration run very, very deep.
What chance do these cases have if Trump is truly and fully unleashed?
Maintaining and strengthening democracy is not just vital to Americans, but for global sustainability too.
Human rights, peace, biodiversity, climate and equality in America matter not just to Americans. They matter to the entire world.
If Americans are poorer, if America's biodiversity is dwindling, and if America does not seek to remedy climate change, the world will be poorer, less safe, and global environmental disasters will be more devastating and frequent.
That is why The Sustainable Century urges Americans to vote Trump and his enablers in the Senate out of office in the 2020 elections.
Last Word
From the Gitksan-Carrier – now Wet'suwet'en People in 1977.
Signs of Change
Keeping up our solidarity with First Nations, Signs of Change is
from the archives.
Many in Canada know that many First Nations children were taken, most often forcibly, from their family and ancestral homelands and put in white government residential schools where they often suffered even more unspeakable abuse.
The debt we owe to the First Nations, for taking their children and
their lands is immeasurable.